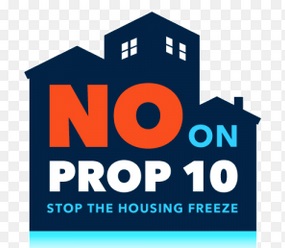 Prop 10 proposes repealing the Costa-Hawkins Rental Housing Act (Costa-Hawkins) and reinstating municipal authority to impose rent control laws. Costa-Hawkins limits rent control to restrictions in place in 1995. Fifteen cities in California had rent control. Two in the Los Angeles area: Santa Monica and West Hollywood.
Proponents of Prop 10 made many claims about how it will help address the housing crisis, particularly for low-income renters.
Michael Weinstein, the founder of the AIDS Healthcare Foundation, cites homelessness as a public health issue caused by a lack of rent control. He contributed 90% of its support amounting to $17.69 million.
Their means for combatting the housing crisis are severely misguided. Instead of supporting the low-income population, Prop 10 would drive them towards homelessness and impact the finances of nearly all Californians: renters and homeowners alike.
In an already restricted market, rent control further limits the housing supply.
Property owners, many of whom are small owners with one or two properties, would be forced to take units off the market if rents are not high enough to compensate their costs. Owners could sell them as condos or repurpose them.
Development would halt because projected rents would not incentivize developers to build new rental units. Affordable housing units would be hit the hardest because the return margins are already slim.
A constricted market supply means fewer people will get housing. Low-income individuals will be at risk for homelessness or overcrowding. Those who can live in rent-controlled units would never move and would reduce the number of available units.
Given the limited supply of housing caused the surge in housing prices, measures further restricting supply are counterproductive.
Prop 10 does not solve the housing crisis. It perpetuates the crisis and strangles the market, making any future attempts to reverse the effects extremely challenging.
https://www.aidshealth.org/2018/08/ahf-contributes-10m-to-yes-on-10-campaign/
https://ballotpedia.org/California_Proposition_10,_Local_Rent_Control_Initiative_(2018)#cite_note-finance-6
https://la.curbed.com/2018/1/12/16883276/rent-control-california-costa-hawkins-explained